CF Film
Easy-Peel Film for Packaging
This non-oriented co-extruded multi-layer film has the "easy peelability" required for lid seals, etc.
CF Film is a non-oriented, co-extruded multi-layer film with the "easy peelability" required for lid seals, etc. A wide range of products are available.
Can be used as packaging in a wide range of applications, including jellies and other dessert cups, rice, medical equipment, meat, and beverage lids.
Films are primarily PP (polypropylene) and PE (polyethylene) based and performance differs depending on the series. Select the film to suit your application.
[PP based]
• 9501 Series
PP-based cohesive--peel-type peelable film. Suitable for dry lamination, can be used for boiling and semi-retort (120°C). 9501K2 also has anti-fogging capability.
[PE based]
• 7601 Series
PE-based cohesive-peel type. Types suitable for dry lamination and polyethylene extrusion lamination (including the 7603 and 7601E Series) are available.
• 7603B, 7603MS
Interface-peel-type peelable films compatible with a variety of adherends. The 7603MS in particular can be used in a wide range of temperatures, and has excellent low-temperature strength retention and blocking resistance.
• 7601E Series
Cohesive-peel type suited for use in PE-coated paper containers. Soft peeling with a clean release that does not tear the paper from the container, and an excellent seal. It can also be used for film-to-film packaging.
Features
Easy peel
Peel strength
Suitable for DL (dry lamination) (depending on type)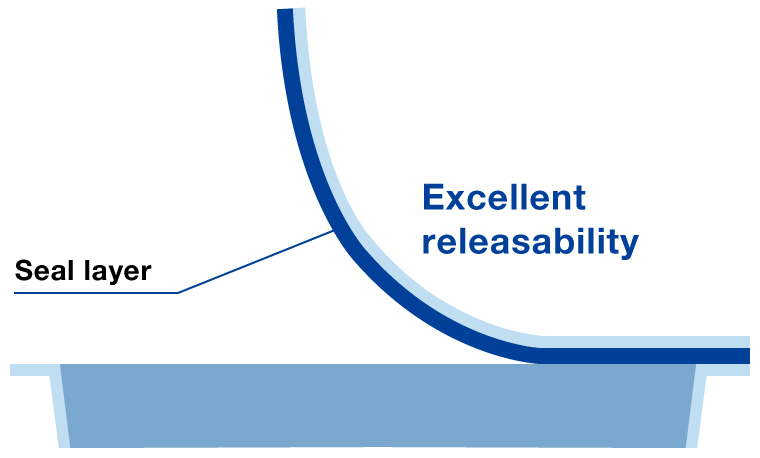 Example Applications
Boiling/retort
Toiletries
Cover film for cups
Wet goods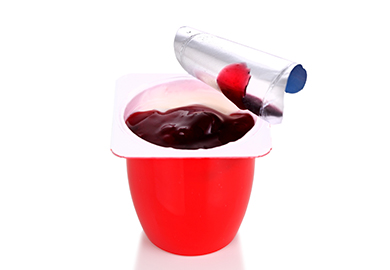 Lid for plastic container for jelly, etc. (image for illustrative purposes)
Technical Information
Properties Table
*Values are representative/measured values and are not guaranteed.
Item
Standard
Unit
CF Film (PP Based)
9501A
9501C
9501E
9501F
9501G
9501H
CX8
9501K2
Peel Type
Cohesive
Peel Strength N/15 mm
(PP Sheet)
Weak
11
Medium to strong
18
Medium
14
Weak
11
Medium
16
Strong
22
Strong
21
Medium
20
Adherend
PP, PE
Heat Resistance
Up to 120°C
Suitable for Retort
Yes (9501F, G, and H have excellent oil resistance when retorted)
Suitable for DL
Yes
Suitable for EL
No
FDA 21CFR 177.1520 Compliant
-
Yes
EU directive 10/2011/EC Compliant
-
Yes
Thickness Range
Micron
30, 50
Corona-Treated Surface
Inside
Relative Density
0.904
Thickness
Micron
30
Tensile
Strength
MD
TD
JIS C2318
MPa
55
30
60
30
60
35
45
30
50
30
50
30
59
32
41
31
Tensile
Elongation
MD
TD
JIS C2318
%
650
750
650
800
750
800
700
800
650
750
650
750
610
770
500
900
Young's Modulus
MD
TD
JIS C2318
MPa
620
620
720
720
620
620
600
600
600
600
600
600
830
760
800
680
Haze
JIS K7361
%
36
17
6
30
45
45
4
6
Friction
Coefficient
Static
Kinetic
EC/n-EC
0.5
0.5
0.3
0.3
0.3
0.3
0.5
0.5
0.5
0.5
0.5
0.5
0.2
0.2
0.4
0.3
Wetting
Tension
EC surface
JIS K6768
mN/m
40
40
40
40
40
40
40
40
Item
Standard
Unit
CF Film (PE Based)
7601A
7601C
7601
EA
7601
EB
7601
ED
GR01
GR02
7603B
7603MS
Peel Type
Cohesive
Cohesive
Interlayer
Interface
Peel Strength N/15 mm
(PP Sheet or Paper PE)
Weak
11
Medium
15
Weak to medium
13
Medium
15
Weak
11
Medium
15
Weak to medium
13
Medium
16
Medium
17
Adherend
PP, PE
PE, paper PE
PP, PE
Various
Heat Resistance
Up to 100°C
Up to 100°C
Up to 100°C
Up to 85°C
Suitable for Retort
No
No
No
No
Suitable for DL
Yes
Yes
Yes
Yes
Suitable for EL
Yes
Yes
Yes
Yes
FDA 21CFR 177.1520 Compliant
-
Yes
Yes
-
EU directive 10/2011/EC Compliant
-
Yes
Yes
-
Thickness Range
Micron
30, 50
Corona-Treated Surface
Inside
Relative Density
0.94
Thickness
Micron
30
30
30
30
Tensile Strength
MD
TD
JIS C2318
MPa
24
13
24
14
23
14
23
14
23
14
20
17
20
17
20
15
22
15
Tensile Elongation
MD
TD
JIS C2318
%
640
640
650
750
500
650
500
620
450
400
620
770
670
570
400
750
390
760
Young's Modulus
MD
TD
JIS C2318
MPa
320
400
320
400
280
360
280
360
280
360
180
190
210
190
250
350
250
350
Haze
JIS K7361
%
54
24
18
15
30
7
9
11
16
Friction Coefficient
Static
Kinetic
EC/n-EC
0.9
0.9
0.9
0.9
0.9
0.9
0.9
0.9
0.9
0.9
0.5
0.4
0.5
0.4
0.3
0.3
0.1
0.1
Wetting Tension
EC surface
JIS K6768
mN/m
40
40
40
40
40
40
40
40
40